Chiropractor Stephen Canuel D.C.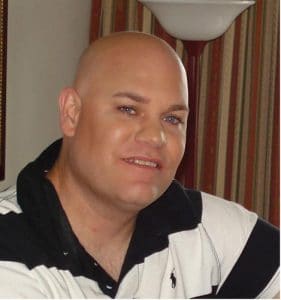 I was born on Long Island, NY (North Babylon) but, moved to the Melbourne area at age 7 so I consider myself a native Floridian. I attended Melbourne High School and during the summer of Jr. and Sr. year of school met my wife, Wendy. We've been together ever since (over 25 years) and will celebrated our 20th year of marriage in September 2013. We adopted our 2 children from Colombia in 2007 a sibling pair, Maria 7 at the time and JP 3. We have 2 dogs, Dalmatians, Maverick and Roxy. Those of you who know us remember my grandmother who lived with us for 15 years; she passed away at 95 February 2013. She was a special part of our family and will be missed. She was an amazing lady and left a beautiful legacy of loving people. Dr. Canuel became a Melbourne chiropractor in 2001. We started our practice as Canuel Chiropractic and Massage in 2002 but, changed the direction of the practice from Massage to Wellness so we could offer more to our patients. Early 2012 we opened a second location in Palm Bay so we can offer further convenience for our patients that lived in south Brevard. In January of 2013 we decided to practice full time exclusively in Palm Bay. Also at this time we decided to open Chiropractic Hand and Foot Clinic of Melbourne since I had become known as the Hand and Foot Chiropractor. We have an amazing staff through the years who are part of our extended family. We would like to invite you to let us help you and your family achieve better health.
---
A Dream Becomes a Reality The Canuels
Melbourne Chiropractor Dr. Stephen Canuel and his wife Wendy are both natives of Melbourne, FL. Dr. Canuel was actually born in Long Island (North Babylon), NY and moved to Melbourne when he was 7 years old. Wendy was born at Melbourne Hospital now known as Holmes Regional Medical Center. They attended different high schools (Dr. C - Melbourne and Wendy - Eau Gallie) and met the summer between their Jr. and Sr. year of high school. They were married in September of 1993.
In December of 1997 they moved to St. Louis, MO with their dog, Sparky, so that Dr. Canuel could attend Logan College of Chiropractic. While in St. Louis Wendy decided to attend Kaleidoscope's school of massage therapy from which she completed and began practicing as a licensed therapist in January 2000. They relocated back to Melbourne in December of 2000 where Dr. Canuel completed his internship. In April 2001 they rejoined friends/colleagues in St. Louis at Logan College for graduation.
After obtaining his Florida license they began to pursue their dream of opening Canuel Chiropractic and Massage, Inc. They were challenged with this because of the September 11 attacks in New York City. No one knew what the economy was going to do so financing for a new, start-up, small business was nearly impossible. I say nearly because after perseverance and persistence, 16 banks later, they acquired the financing they needed to open their practice.
Canuels First OfficeCanuel Chiropractic and Massage, Inc. opened in November 2002 at 8255 N. Wickham Road next to the Brevard Zoo. They opened their doors with 22 new patients on the books from which they obtained from a local Melbourne Chamber of Commerce event - The Airport Expo - held in the hangers at Melbourne International Airport. GO Chamber!
After a few years in practice they noticed that more and more of their patients they were seeing were coming in VERY SICK. Their patient's overall health was not good at all! Together with their patients they began to talk about additional things they could do to help better the quality of care they were giving their patients to help them not only to become healthier but, to live healthier lives. Dr. Canuel started researching different nutritional companies and programs and after 2 years of research they started implementing clinical nutrition into their practice. Dr. Canuel is in the process of completing his diplomat in clinical nutrition endorsed through the University of Miami's Miller School of Medicine. At the same time Wendy became certified as a personal trainer through the ISSA (International Sports Sciences Association) program. It was at this point they they changed the focus of their practice from chiropractic and massage to Chiropractic and Wellness!Canuels Second Office
Seven years later they they had outgrown the office. They needed additional treatment rooms and room for the new technology they wanted to implement into their practice but, had no place to put it. In November 2009 they relocated to 7331 Office Park Place, Suite 400 where they added non-surgical spinal decompression and cold laser therapy to optimize the care they could offer their patients.
In an effort to service the South Melbourne and Palm Bay areas more conveniently they opened their satellite office INSIDE Space Coast Massage and Spa at 490 Centre Lake Drive NE Suite 100A in May 2012.
After careful consideration and several lift changing events this past year (the children growing up and the passing of their grandmother who lived with them for 15 years) they decided to make some major changes in their practice. They felt that God was redirecting their focus back to the family and with a dual practice that wasn't possible. They decided not to practice in Viera any longer and to exclusively practice from their Palm Bay office closer to home. The Viera location would remain operational but, under new ownership.Dr. Canuel has been a full body Chiropractor since 2001. What this means is that in addition to the spine Dr. Canuel also treats the tiny bones in the hands and feet for conditions such as carpal tunnel and plantar fasciitis. He has become known as the Hand and Foot Chiropractor so he opened Chiropractic Hand and Foot Clinic of Melbourne in the beginning of 2013.
On June 11, 2008 the we adopted 2 children from Colombia. They were 7 and 4 years old.
We have a very exciting and adventurous story! If you are considering adoption, especially regarding the adoption of older children please, don't hesitate to contact us! We'd be happy to talk to you about our experience. Just ask us!
Check out our adoption blog here.
OFFICE HOURS
---
Monday
8:30am - 1:00pm
3:00pm - 5:00pm
---
Tuesday
8:30am - 1:00pm
---
Wednesday
8:30am - 1:00pm
3:00pm - 5:00pm
---
Thursday
Closed
---
Friday
8:30am - 1:00pm
3:00pm - 5:00pm
---
Saturday
Closed
Melbourne Chiropractic Spine and Injury Center:
Stephen Canuel, DC
490 Centre Lake Drive NE Suite 100A
Palm Bay, FL 32907
(321) 499-4608