Knee pain can be caused by a sudden injury, an overuse injury, or by an underlying condition, such as arthritis. Treatment will vary depending on the cause. Symptoms of knee injury can include pain, swelling, and stiffness. There are a lot of people that suffer from knee pain in Palm Bay, and for many there are some great treatment options.
Knee Pain In Palm Bay
Knee pain is an extremely common complaint, and there are many causes. It is important to make an accurate diagnosis of the cause of your symptoms so that appropriate treatment can be directed at the cause.
If you have knee pain, some common causes include:
Arthritis - Arthritis is among the most common causes of knee pain, and there are many treatments available.
Ligament Injuries - Ligament injuries commonly occur during athletic activities and can cause discomfort and instability.
Anterior Cruciate Ligament (ACL) Injury
Posterior Cruciate Ligament (PCL) Injury
Medial Collateral Ligament (MCL) Injury
Cartilage Injuries | Meniscal Tear - Cartilage tears are seen in young and old patients alike, and are also an extremely common cause of knee pain.
Patellar Tendonitis - Tendonitis around the joint is most commonly of the patellar tendon, the large tendon over the front of the knee.
Chondromalacia Patella - Chondromalacia causes knee pain under the kneecap and is due to softening of the cartilage. It is most common in younger patients (15-35 years old).
Dislocating Kneecap - A dislocating kneecap causes acute symptoms during the dislocation, but can also lead to chronic knee pain.
Baker's Cyst - A Baker's cyst is swelling in the back of the joint, and is usually a sign of another underlying problem such as a meniscus tear.
Bursitis - The most common bursa affected around the joint is just above the kneecap. This is most common in people who kneel for work, such as gardeners or carpetlayers.
Plica Syndrome - Plica syndrome is an uncommon cause of knee pain, and can be difficult to diagnose. The diagnosis is usually made at the time of arthroscopy.
Osgood-Schlatter Disease - Osgood-Schlatter disease is a condition seen in adolescents and is due to irritation of the growth plate just at the front of the joint.
Osteochondritis Dissecans - Osteochondritis dissecans (OCD) is another condition seen in adolescents due to the growth of the bone around the joint.
Gout - Gout is an uncommon cause of knee pain. However, in patients who have a diagnosis of gout, it must be considered as a cause for new onset knee pain.
CAN KNEE ON TRAC HELP ME?
WHAT IS KNEE ON TRAC?
The Knee On Trac system is a non-invasive knee pain therapy that offers a revolutionary solution for those that live with chronic knee pain. The Knee On Trac isolates the knee and offers safe and effective mechanical traction to decrease pain by:
Decreasing Inflammation
Allowing Re-Hydration
Increasing Range of Motion
Speeding up the Healing Process
KNEE ON TRAC BENEFITS THOSE SUFFERING WITH:
Chronic Knee Pain
Osteoarthritis
ACL Injuries
Meniscus Tears
Failed Surgery
Sub-Acute Muscle Strain
Chronic Muscle Strain
Previous Injury
MECHANICAL TRACTION
Studies show that mechanical traction was more effective in decreasing pain and improving quality of life than using conventional methods alone. The study also investigated the reduction of symptoms after mechanical traction along with conventional therapy. The results were shown to have significant improvement!
- International Journal of Science & Research
"I have suffered from knee pain and swelling from an injury back in 2004. I have dealt with this daily and thought I would have to for the rest of my life. I have tried everything from chiropractic adjustments, therapy, massages and was only able to get temporary relief. The Knee On Trac has changed my life. I no longer have any knee pain PERIOD. After using this equipment I am doing things now that I haven't done in many years!"
- Donnie Crisp, Texas
"About a year and a half ago, I tore my ACL at a trampoline park while playing with my 5 year old daughter. I went to a surgeon, repaired my ACL, went to physical therapy religiously but I still had a really bad limp. Then, I found the Knee on Trac; this thing works amazing! The Knee On Trac has been a HUGE part of recovery. I am extremely happy with this product and recommend it to anyone who has knee pain."
- Matthew Christenson, North Dakota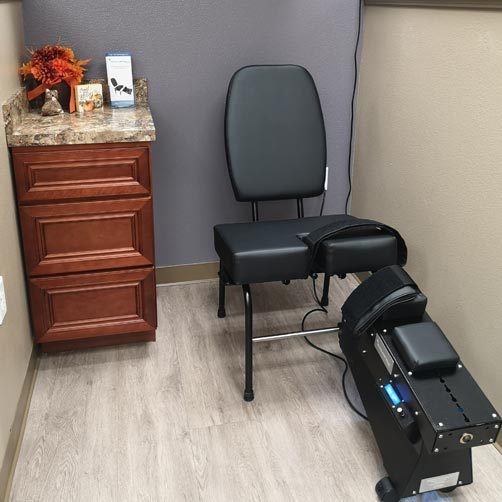 REQUEST AN APPOINTMENT!
If you suffer from knee pain call our team at Melbourne Chiropractic Spine and Injury Center today. Our Palm Bay area team can offer you some of the latest treatments available to help you overcome your pain and get you back to living the life you deserve!